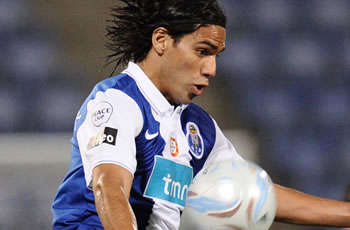 Porto's £15 million-rated striker Radamel Falcao is dreaming of a move to England and welcomes the interest of Premier League clubs including Tottenham and Aston Villa, according to his father.
The 24-year-old Colombian international, who is his club's top scorer this season with 31 goals, has an ambition to play in the English top flight and his father, Radamel Garcia, told Goal.com UK he is already learning the language to enhance his chances.
MORE...
* In Pictures: Falcao and the eight other stars in Portugal linked with Premier League transfers
One of the hottest properties in European football, Falcao has attracted the attention of various clubs around Europe but it is with English football that his hopes rest. So much so that he would even consider joining a club that is not in the Champions League.
Both Harry Redknapp's Tottenham side — who this week sealed qualification for Europe's premier competition — and Martin O'Neill's Aston Villa have been linked with moves for the player in recent months. Liverpool also reportedly tried to sign Falcao last summer, and his father admits the player will consider all offers made to him.
"All his life he has wanted to play in English football," Garcia told Goal.com UK.
"I've heard and read that there are English clubs interested, but I don't know if it's true. He's very attracted by the idea of playing in English football.
"A footballer always wants to go to the best team. It depends on the possibilities. He will listen to the best offer and see what suits him best.
"He also finds the Italian and Spanish leagues attractive. It depends on the club. But he hopes it's in English football.
"If it's a team in the Champions League he'll play in the Champions League, if it's one that's not in the Champions League he can play there. It depends which club gives him the best chance to play in English football.
"I don't know if there's been any contact from clubs. I only know from what I've seen in Portuguese and English newspapers, but nothing concrete has come out yet."
Despite the lack of official contact from interested parties, Falcao has already begun preparing for a move to England, doing all he can to ensure he adapts to his potential new surroundings as quickly as possible.
"He speaks some English. He's been learning it for five or six years," Garcia revealed.
"In Portugal he has English classes every afternoon. He's preparing for the possibility of going to England.
"He watches English football on TV a lot. He watches all the matches. He likes Wayne Rooney a lot and liked Thierry Henry when he was there."
Garcia himself was also a professional footballer in Colombia. His son, who is named after Brazilian legend Falcao, gave notice of his own talent in 2008, as he starred for River Plate by leading the Argentinian club to the Clausura championship with 19 goals.
http://www.goal.com/...-radamel-falcao
Would have to question the link to Tottenham given the depth in strikers they have, unless one of them leaves.
ASF can offer more insight into the lad, but from a Colombian perspective he's a good prospect, and at at the right age as well.